The Stylized Wooden Shelter
The Stylized Wooden Shelter takes up a 9x7x6 area. It requires few materials to create, and is very compact. Useful as a refueling station, distant base, or entrance to a larger underground structure.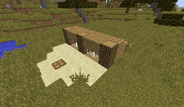 Materials
| Material | Amount |
| --- | --- |
| Wooden Planks (Oak Preferred*) | 63 |
| Sand | 27 |
| Slab (*Same as above type) | 24 |
| Sandstone | 21 |
| Wood (Log) (Oak Preferred) | 15 |
| Glass Pane (Undyed Preferred) | 4 |
| Ladder | 2 |
| Trapdoor (Wooden Preferred) | 1 |
Step-By-Step
These steps are organized into layers, starting at three below ground level. As the step count goes up, so does the layer, going up to two above ground level.
Step 1
Layer -3
Step 2 and 3
Layer -2 and -1 respectively
Both of these layers are identical, with the exemption of layer position.
Step 4
Layer 0
Step 5
Layer 1
"LH SLAB" means that the half-slab is on the Lower Half of the block
"UH SLAB" means that the half-slab is on the Upper Half of the block
"PANE" means that it is a glass pane, and not a glass block
Step 6
Layer 2
"LH SLAB" and "UH SLAB" retain the same meaning as before
Ad blocker interference detected!
Wikia is a free-to-use site that makes money from advertising. We have a modified experience for viewers using ad blockers

Wikia is not accessible if you've made further modifications. Remove the custom ad blocker rule(s) and the page will load as expected.