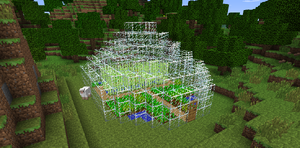 The
Farm House
is grand house made out of glass, housing wheat and sugar canes. In the blueprint (link down below), the author has put diamond where you have to place glass, as it isn`t easy to see.
Here is the link:
http://minedraft.net/?id=4e0b3e2c37f7927913000001
You'll need:
346 glass
48 wood
18 water (in total blocks)
18 sugar canes
61 seeds
1 door
4 chest
Ad blocker interference detected!
Wikia is a free-to-use site that makes money from advertising. We have a modified experience for viewers using ad blockers

Wikia is not accessible if you've made further modifications. Remove the custom ad blocker rule(s) and the page will load as expected.